East Orange

Laundromats and Residential and Commercial Laundry Services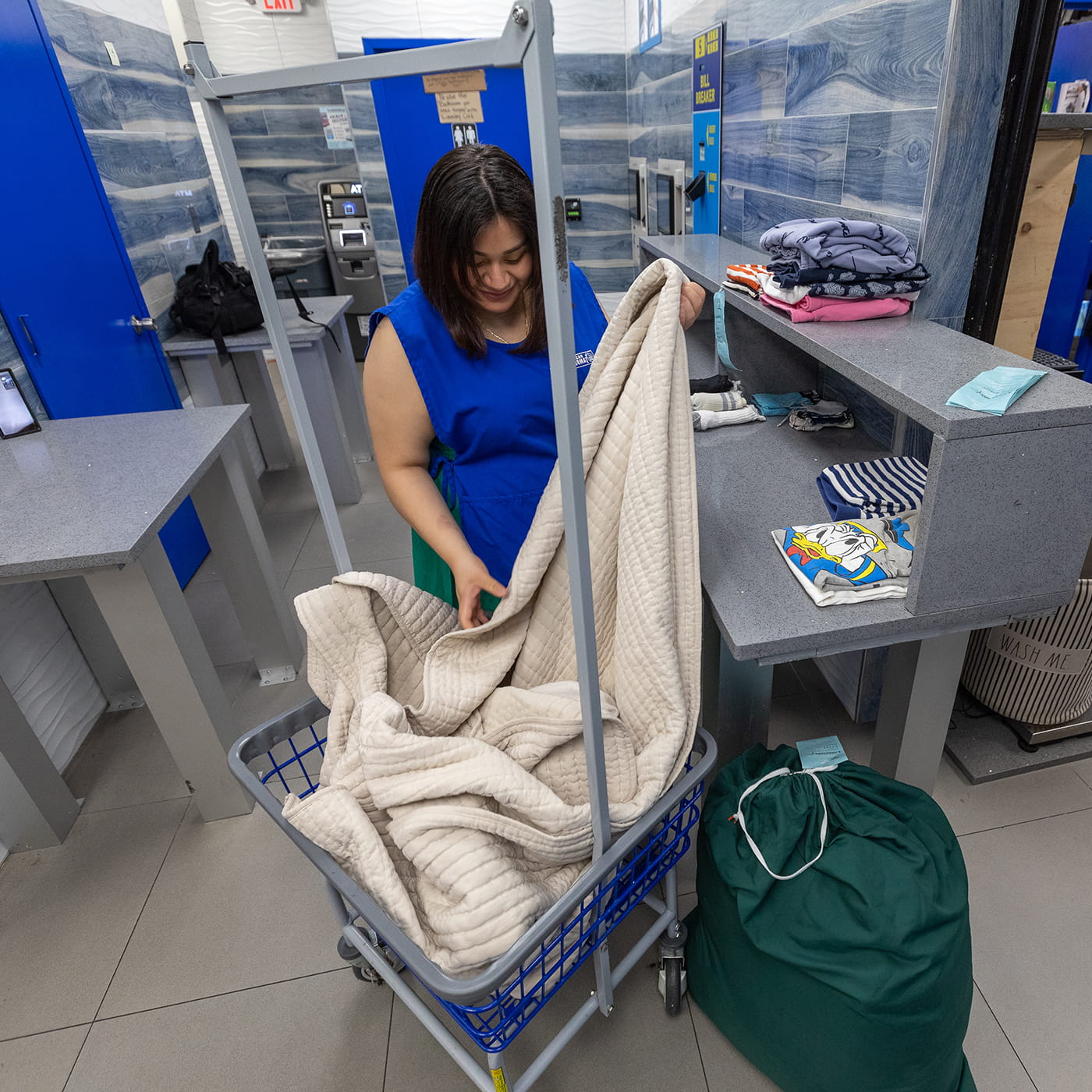 East Orange

Laundry Services Company

American Laundromat in East Orange, NJ is the perfect place to get your laundry done quickly and enjoyably. As a family-owned and operated business, we understand how important it is to have an easy, comfortable, and convenient way to get your laundry done. Our East Orange location provides self-service washers and dryers and wash-and-fold drop-off or pickup and delivery services with available 24-hour turnaround time. Located on Central Avenue in East Orange, our newly renovated modern laundromat is easily accessible from Shepard Avenue, Nassau Place, Oak Street, Eppirt Street, South Burnet Street, South Clinton Street, Carnegie Avenue, Beech Street, Chestnut Street, Elmwood Avenue, Freeman Avenue, Park Avenue, Glenwood Avenue, North Grove Street, South Grove Street, Washington Street, Springdale Avenue, the Garden State Parkway, Route 280, and the surrounding roads. While your laundry is getting done, enjoy our waiting lounges, which are equipped with comfortable seating, TVs, vending machines, and free WiFi. To help keep you safe and secure, American Laundromat is equipped with a state-of-the-art security system, including high-definition cameras and alarms. Look no further than American Laundromat for all your laundry needs in East Orange. Our modern facilities, quick turnaround times, and friendly staff will ensure a stress-free experience.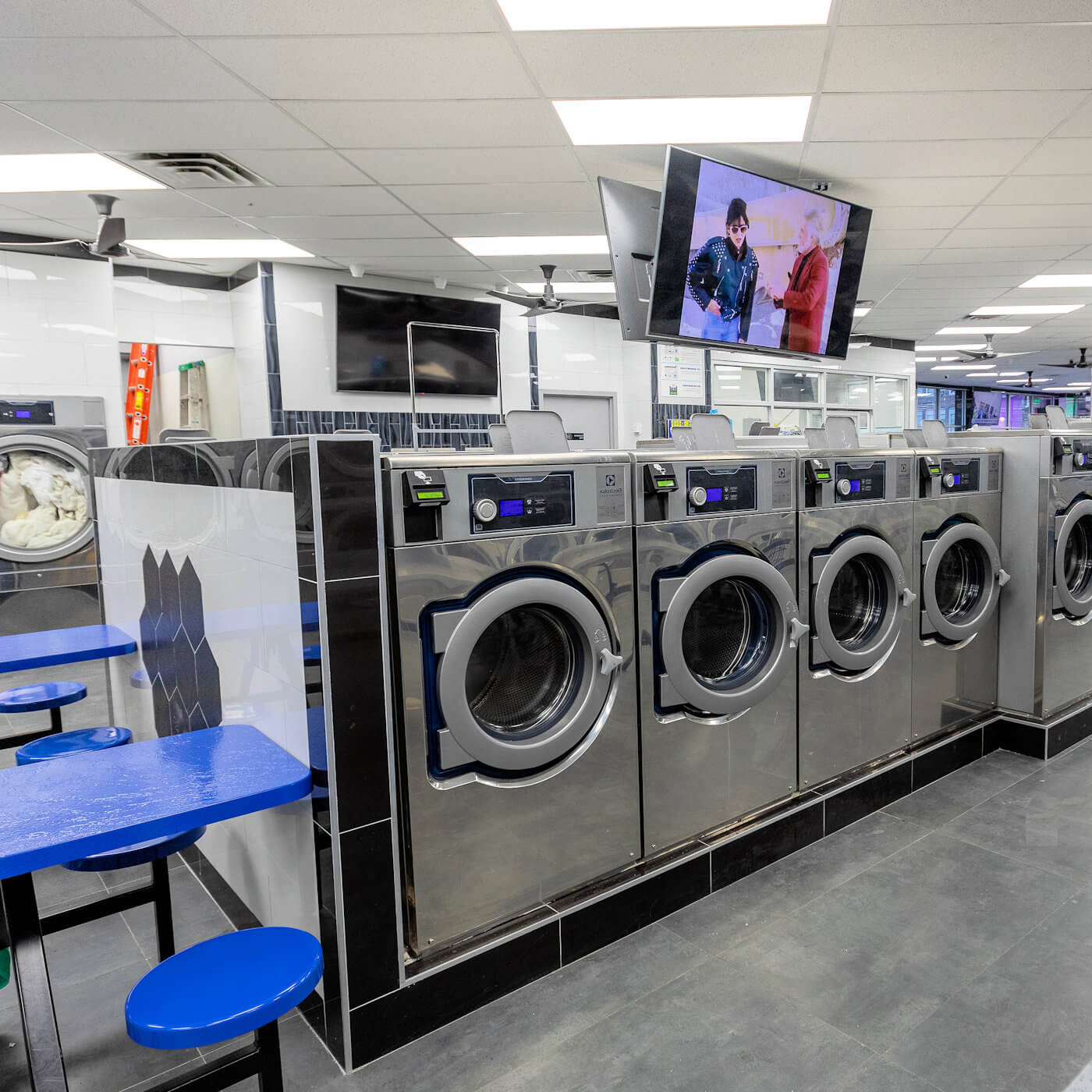 American Laundromat's History in
East Orange
For over 35 years, American Laundromat has provided convenient and reliable commercial and residential laundry services in the East Orange area. Over three decades of experience in the laundry business have enabled us to acquire unique industry expertise and a deep understanding of customer needs. American Laundromat has earned a reputation as the go-to laundry service for busy families, professionals, housekeepers, medical offices, and commercial businesses in East Orange. Businesses near Soverel Park, Watsessing Park, Paul Robeson Stadium, East Orange YMCA, Columbian Playground, Oval Park, East Orange VA Medical Center, and Freeman Gardens are thrilled with our efficient and dependable commercial laundry services. Families and professionals living in East Orange neighborhoods like Elmwood, Doddtown, Greentown, Memorial Park, Harrison Park Towers, Halsted Street, Presidential Estates West, East Orange South, and the surrounding areas appreciate that we offer a variety of washing machines and dryer sizes as well as reliable wash-and-fold drop-off and pickup and delivery laundry services for optimal efficiency and convenience. Experience the American Laundromat difference today!
East Orange Laundry Services
Whether you're looking for a clean, modern self-service coin laundromat or prefer wash-and-fold drop-off or pickup and delivery laundry services, American Laundromat is the perfect solution to your laundry needs.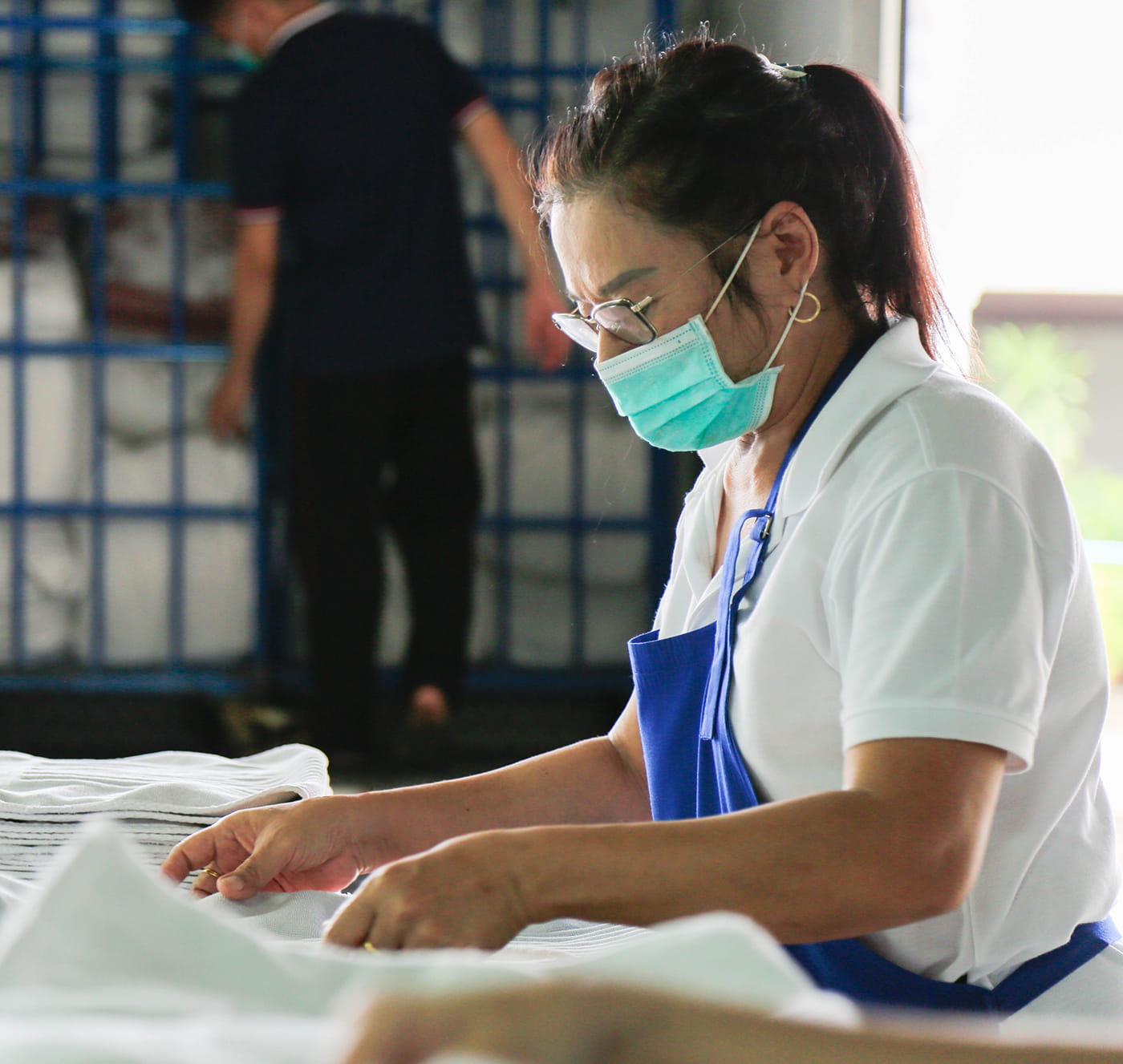 East Orange
Wash and Fold

Drop-off Laundry Service
24-hour Turnaround Available
American Laundromat's wash-and-fold laundry service is a popular choice for busy people looking for a convenient way to stay on top of their laundry. Our available 24-hour turnaround time means you can drop off your laundry today and pick it up tomorrow! Our automated pickup and delivery system will text you when your order is ready, making it more convenient than ever to get your residential or commercial laundry done. Whether you're a busy professional or a student on the go, American Laundromat's wash-and-fold service will surely fit your needs!
How It Works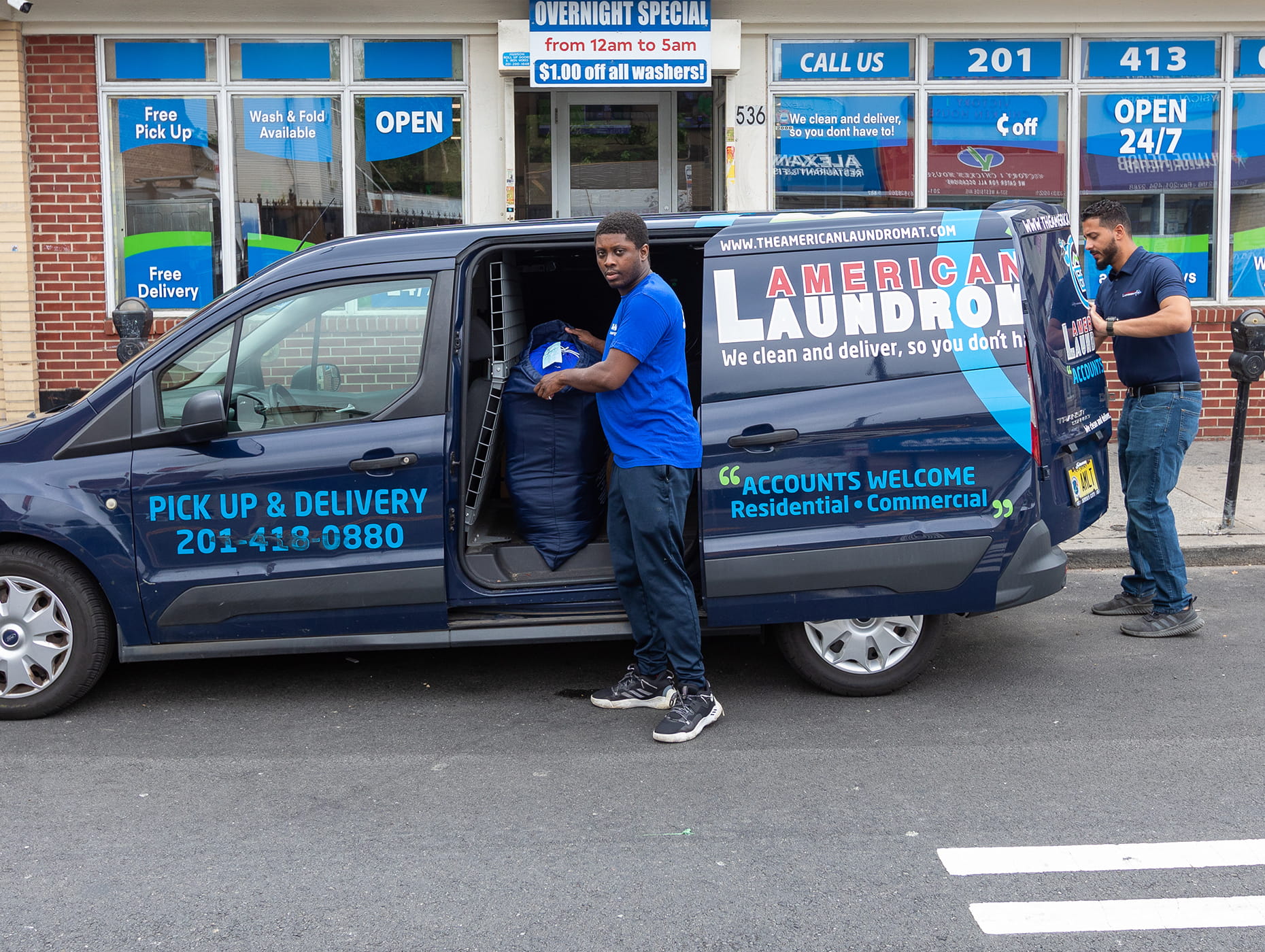 East Orange Laundry
Pickup and Delivery
24-hour Turnaround Available
No time to do your own laundry? Need commercial laundry cleaning of staff uniforms, commercial linens, lab coats, safety vests, aprons, and more? No problem! American Laundromat brings convenience and clean clothes to your doorstep! Our mobile laundry service is the perfect solution for busy professionals, families or commercial clients who don't have time to wash and fold laundry. With just a few clicks, you can schedule your laundry pickup and delivery times. We even offer a 24-hour turnaround time (based on availability).
Our door-to-door laundry service is popular with families and busy professionals as well as commercial clients who need bulk laundry service, including hotel laundry service, uniform laundry service, linen laundry service, medical office laundry service, salon towel washing service, and much more!
Visit One of Our East Orange Laundromat Locations
Discover a modern and convenient American Laundromat location near you, where we make it more fun to get laundry done!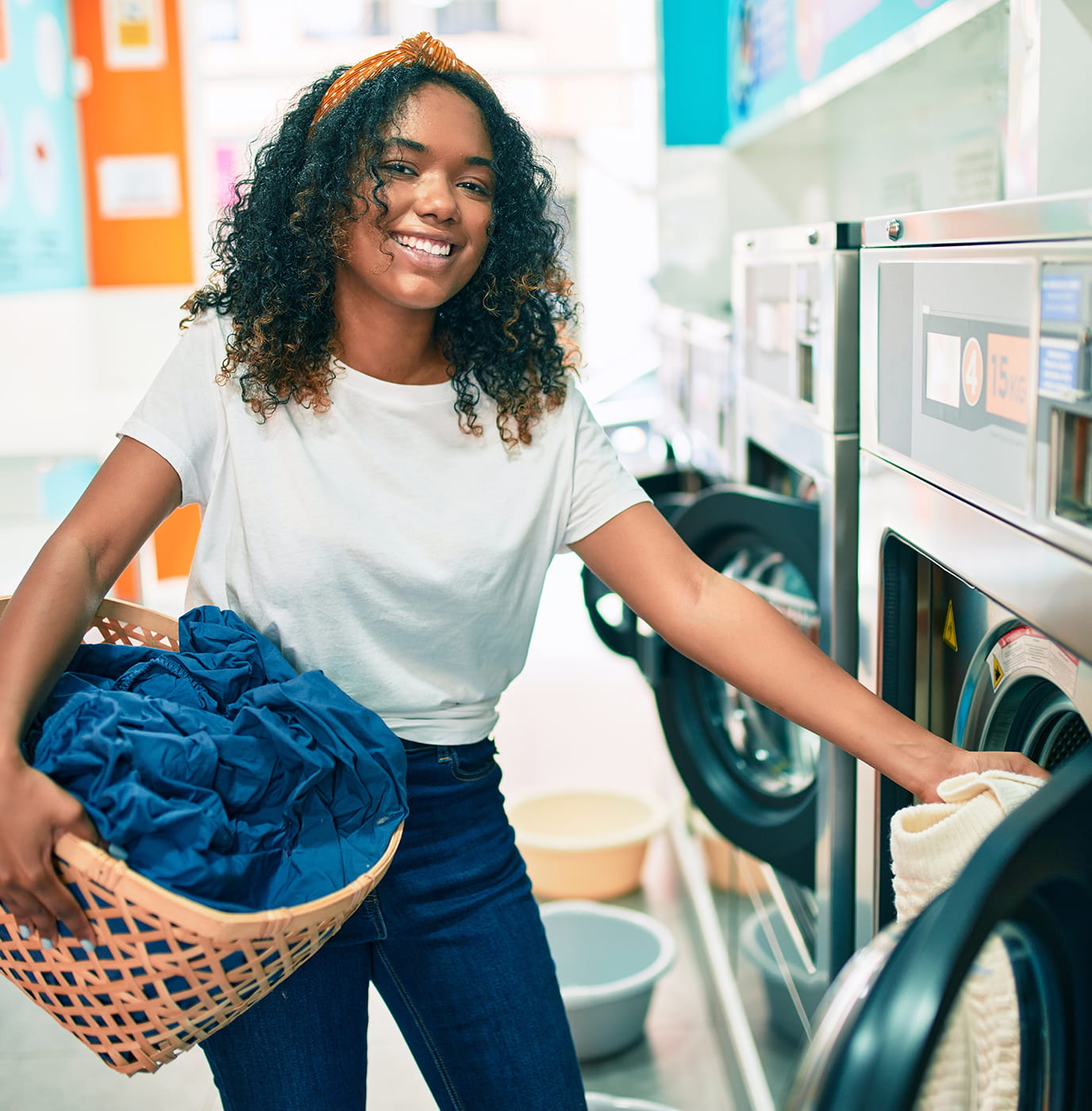 Work Smarter, Not Harder
Try the Best East Orange Laundromat Today!
American Laundromat is the safe and clean coin-operated laundromat in East Orange that is modern, efficient, cost-effective, and comfortable. Our family-owned and operated business provides customers with decades of laundry expertise and customer-focused services. Enjoy the convenience of fast and easy self-service laundry, drop-off wash & fold service, or pick-up and delivery laundry service in East Orange!