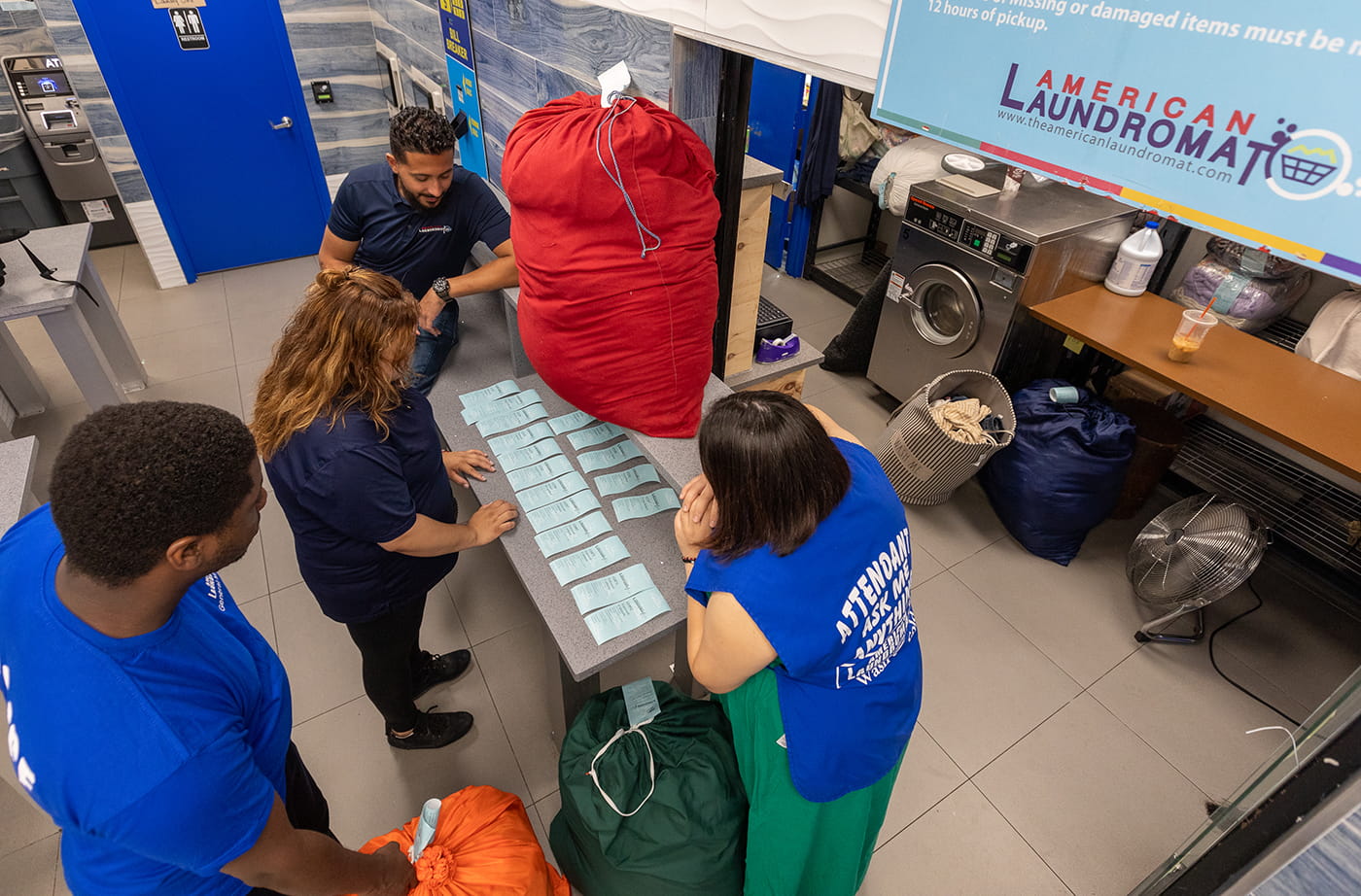 About
American Laundromat
As a family-owned business, American Laundromat understands how important it is for you to get your residential or commercial laundry done quickly and efficiently. With seven locations in Hudson and Essex County, NJ, our modern laundromats are cost-efficient and are backed by a top-notch customer service team. Enjoy the comfortable waiting lounges that offer TVs, vending machines, and free Wifi while your laundry is being washed and dried in our state-of-the-art, affordable laundry machines. We also prioritize your safety with alarms and high-definition camera systems, as well as overnight staff on hand at our 24-hour laundromat locations. Choose from our self-service coin-operated laundry or take advantage of our fast wash and fold and laundry pickup and delivery services. American Laundromat is here to make doing your laundry easier than ever!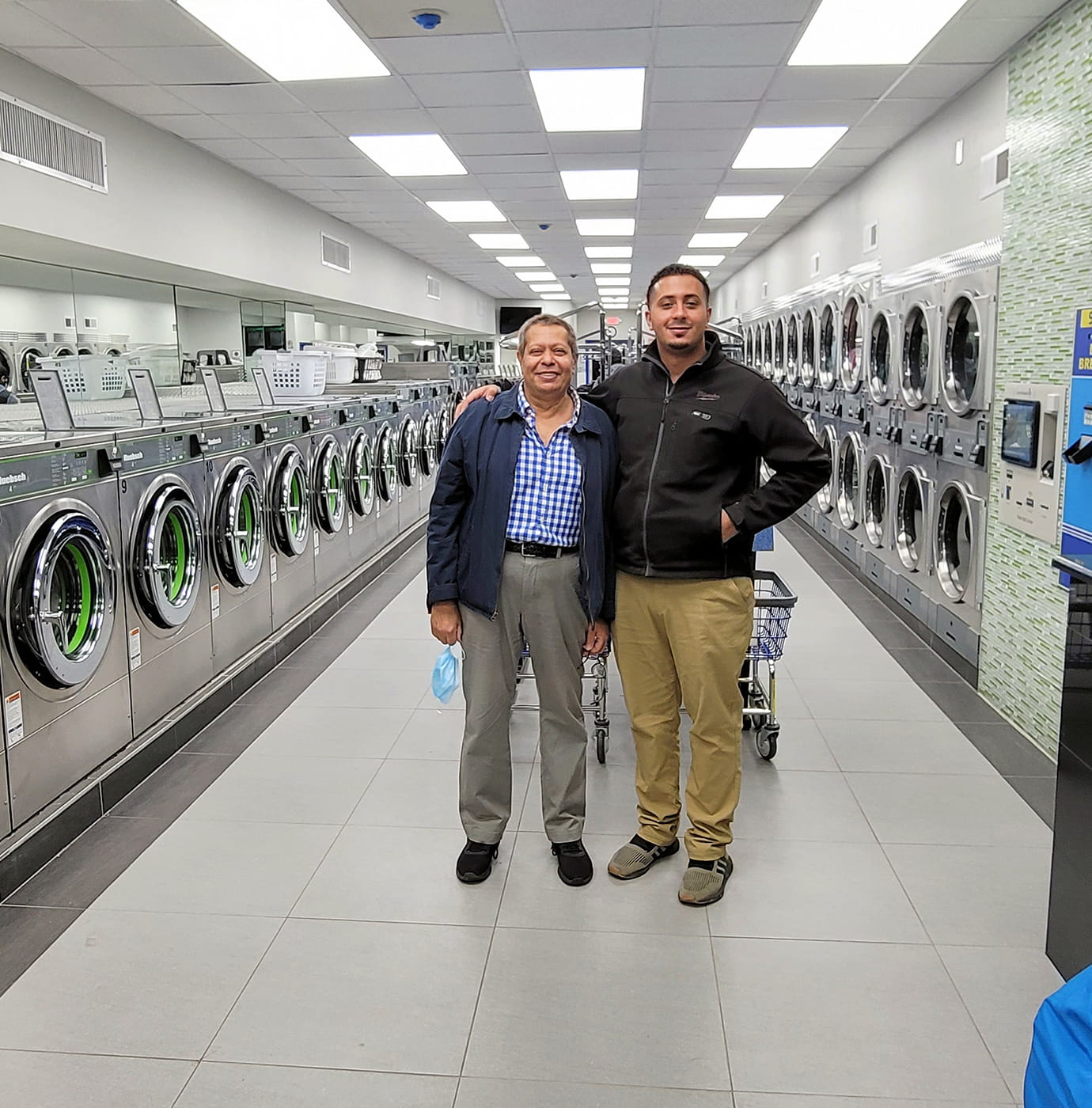 Family Owned

, Company Run

American Laundromat was established in 1985 by the Gergues family, and the business is now in its third generation of laundromat experience. Over 35 years of background in the laundry business have enabled the Gergues family to develop unique industry expertise and a deep understanding of customer needs. Jake Gergues grew up working at the original Jersey City American Laundromat locations and is now using his fine-tuned business and customer service skills to grow the increasingly popular laundromat brand into an industry leader. Jake visits each store personally, always working to tailor the laundromats to the needs of the local community. Jake visits each store personally to ensure exceptional management and introduce improvements that best meet the community's needs. American Laundromat is proud of its family-owned and operated history and is committed to making it easier and more enjoyable for you to get laundry done!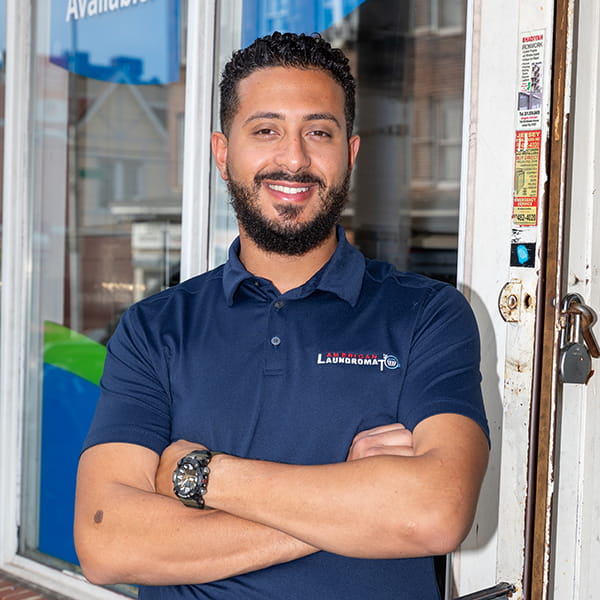 Jake Gergues, Owner/Operator
As a child, I spent countless hours in my family's laundromats, learning the ins and outs of the business, from fixing laundry machines to assisting customers with their laundry needs. This invaluable firsthand experience became the foundation for transforming the traditional laundromat into an innovative and engaging customer experience.
At our modern American Laundromat, we've taken laundry to a whole new level by infusing it with modern conveniences. Picture this: cozy seating areas with TVs, free Wi-Fi to stay connected, and even a designated play zone for kids. We've thought of every detail to make your laundry time not only efficient but enjoyable too.
But that's not all – we've introduced time-saving convenience services like our popular wash and fold option, as well as hassle-free pick-up and delivery services. Now, you can say goodbye to the mundane chore of doing laundry and leave it to us.
Discover the transformation we've brought to the laundromat experience. Visit our convenient location and experience how we've made laundry fun and hassle-free.
~ Jake Gergues, Owner/Operator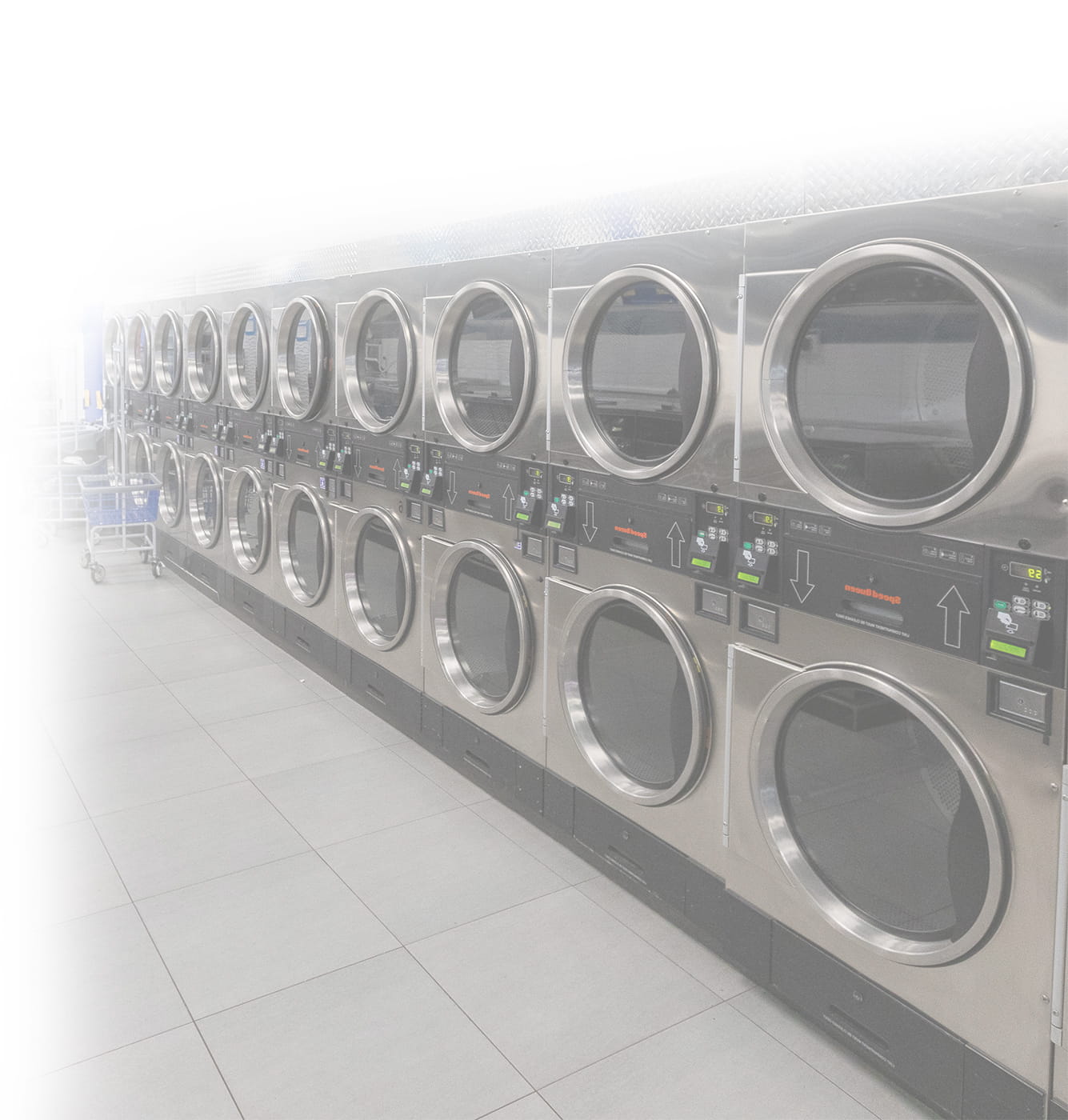 Why Choose

American Laundromat?

Discover why we're the go-to laundromat for families, busy professionals, housekeepers, medical offices, hotels, vacation rental properties, cleaning companies, nail salons, school systems and other commercial businesses.
Clean and Safe

At our coin-operated laundromat, we take cleanliness and security seriously. Every store is held to the highest safety and cleanliness standards, with alarms and high-definition camera systems in place to monitor activity. We are also staffed overnight at our 24-hour laundromat locations to ensure your peace of mind.

Fast and Convenient

Doing the laundry has never been easier than with American Laundromat. With 24-hour locations in Hudson and Essex counties, you're never far from a place to get your laundry done. Our washing machines extract more water during the spin cycle, resulting in faster dry times of 2-3 times faster than other laundromats. We provide self-service laundry, drop-off wash and fold service, and pick-up and delivery laundry service to make your life easier. Make American Laundromat your go-to for all of your laundering needs!

Modern and Efficient

At American Laundromat, we make doing your laundry a breeze! Our state-of-the-art, climate-controlled facilities feature a variety of washer and dryer sizes, so you can get your laundry done quickly and efficiently. Our interactive machines even send you a text message when the laundry cycle is done! Stop by and experience our newly renovated, efficient residential and commercial laundry services today. Let American Laundromat make your life easier!

Cost-Effective

At American Laundromat, we're proud to offer you fast and cost-effective laundry solutions. Our self-service washing machines extract water faster than those of other laundromats, so you can get your clothes cleaner and dried more quickly. This saves you money on drying costs while providing a faster laundry service. Or, allow us to help you use your time even more efficiently by opting for our drop-off wash-and-fold or pick-up and delivery laundry services. Experience the best in cost-effective laundry services at American Laundromat.

Comfortable

At American Laundromat, we don't want doing laundry to be such a chore. That's why we offer a convenient multi-function waiting lounge where you can relax and enjoy yourself while we take care of the laundry. Our waiting lounges have TVs, snack vending machines, two-seat tables, and free Wifi. Plus, for those with kids, several locations feature a children's playroom. Come experience the American Laundromat difference today!

Family Owned and Operated

At American Laundromat, we are proud to be a family-owned business with decades of experience in the laundry industry. Our team of experts ensures every store is tailored to provide the ultimate laundry experience, from knowledgeable customer service to reliable machine maintenance. Come visit us today and see how we can make doing laundry easier for you!

Exceptional Customer Service

At every location, we have friendly and knowledgeable laundromat attendants who are dedicated to providing our customers with personalized attention. We go the extra mile to ensure your satisfaction and make sure all questions are answered promptly. Come experience the difference our attentive service can make!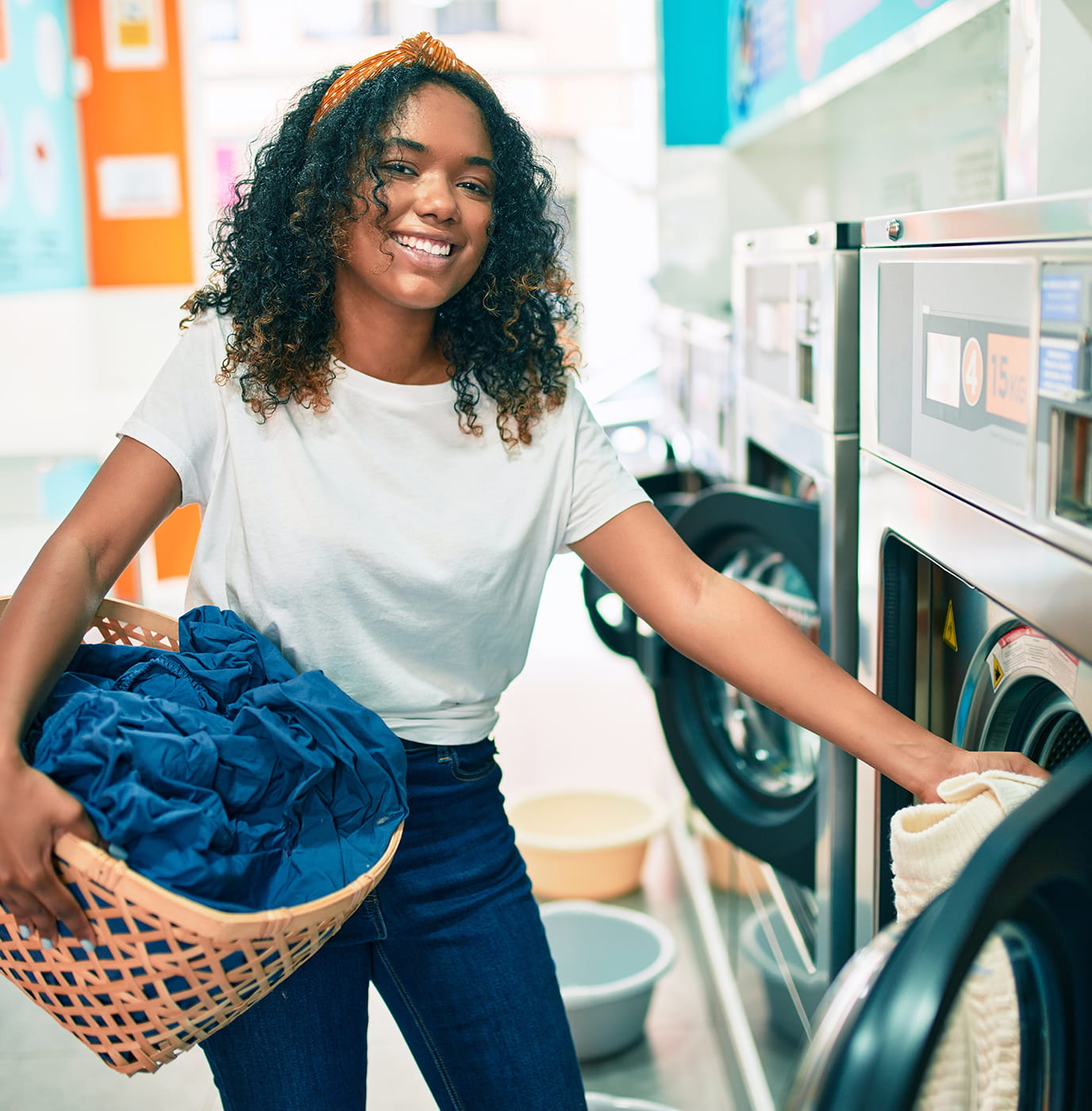 Work Smarter, Not Harder
Try the Best Laundromat Today!
American Laundromat offers safe and clean coin-operated laundromats that are modern, efficient, cost-effective, and comfortable. For your convenience, we have 24-hour locations in Hudson and Essex counties. Our family-owned and operated business provides customers with decades of laundry expertise and customer-focused services. Enjoy the convenience of fast and easy self-service laundry, drop-off wash & fold service, or pick-up and delivery laundry service!
Visit One of Our Laundromat Locations
Discover a modern and convenient American Laundromat location near you, where we make it more fun to get laundry done!